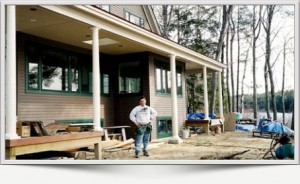 Mac Ford Custom Building was born over 25 years ago, when my father took a risk and left his corporate job to follow his dream.  Throughout high school and college I worked summers and vacations with my dad not realizing the skill I was learning would actually be my passion later on in life.  After attending New Hampshire College and receiving my Bachelor of Science degree in Business, I went into the insurance industry only to realize something was missing.  I missed working with my hands, the sense of accomplishment at the end of the day and the creativity that challenges you every day in the building process. It was then that I rejoined my father and assisted him in building what Mac Ford Custom Building is today.
We have worked with hundreds of people in the area as far north as Augusta, Maine and as far south as Cape Cod.  We treat each of our projects as a unique extension of ourselves.  Ten years ago, my wife and I bought Mac Ford Custom Building and are continuing the tradition of bringing dreams alive.  We currently live on Milton Three Ponds with our two daughters.  I would love to meet with you and discuss the reality of making your dream come true.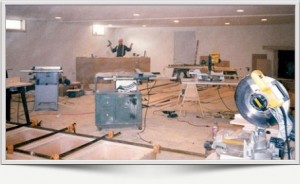 Today we are proud to bring to the table over forty years of experience and an exceptional crew of three individuals on site, who possess the utmost pride in the quality of thier workmanship, and two individuals behind the scenes who are an important part of the team-building.
When you hire Mac Ford as a builder/general contractor, you get Mac Ford on the job working so there are no lines of communication missed between the home owner and general contractor.
We offer a complimentary meeting to discuss customers goals and objectives.
The day of striving to be a premier builder has arrived through years of dedication and commitment to fulfilling over hundreds of homeowner's dreams.
Quality and honesty has always, and will always take precedence on all projects with which we are involved.

  Mac Ford supports the Rochester Opera House.  Click here for more info.